Thad Young denies report he asked for trade, says agent has 'talked' with Sixers GM Sam Hinkie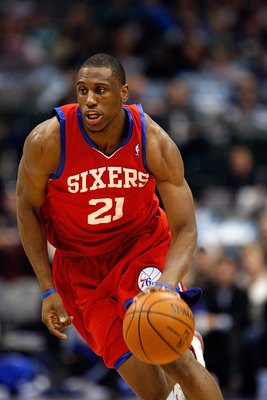 (AP)
Thaddeus Young denied a report that said he has requested a trade.
The 76ers forward disclosed that he, his agent Jim Tanner and Sixers general manager Sam Hinkie have an open line of communication about trade requests coming from other teams, but Young said his camp has not opened the door to such dialogue.
While frustration is building within a team that has lost seven games in a row, and 14 of 16 overall, Young said he has not asked to be moved by the Sixers.
"I just think how it's all funny that it's 'sources' said I asked to be traded," Young said Friday morning, after the team's shootaround session at PCOM. "At the end of the day, I'm here 110-percent every single game to just play, stay focused and try to win basketball games."
When asked directly about the Thursday evening report, published by LibertyBallers.com, and whether he had requested a trade, Young said without hesitation, "No."
"My agent has talked to Sam about different situations and options and stuff like that. There's been talks about me being traded and me having a lot of frustration, but that comes with losing basketball games," Young said. "People have to realize that when you're in a losing situation like we are now, people are going to get frustrated, people are going to tense up and that's what's been happening."
There's justification for Young's frustration.
The longest-tenured Sixer, who's been with the team since being taken 12th overall in the 2007 draft, Young has had five coaches in his seven-season tenure in Philly. The 25-year-old is only two years removed from his team making the second round of the playoffs. And this season, he's overseeing an overhaul with the Sixers, who have nine players with two or fewer seasons of experience.
Upon seeing the report about his supposed trade request, Young said he played with his two young sons to take his mind off of it.
"To tell you the truth, I saw it, I laughed, and I started playing with my kids," Young said. "I can't let anything get me upset. I just have to keep playing, keep being focused and keep being the family man I am. I went back to playing with my kids. They were at home, smiling and playing, and that was happy for me."

But is it possible Young is being shopped? He said yes.

"If there's something put on the table, (Hinkie) is going to listen," Young said.
Young, who's making $8.6 million this season, potentially has two years left on his deal. He's set to earn $9.16 million next year and has a player option of $9.72 million for the 2015-16 campaign.
The seventh-year forward is posting 15.8 points, 6.6 rebounds and 1.6 assists per game. He has thrived as a stretch-four in coach Brett Brown's offense, being on pace to take more 3-pointers than he had in any previous season. Young is shooting 48.7 percent overall (154-for-316) and 34.9 percent from beyond the arc (15-for-43).
Labels: Jim Tanner, Sam Hinkie, Thad Young, trade rumors