HOLIDAY SAYS SIXERS "TRYING" TO GET TO FREE-THROW LINE, JUST NOT SHOWING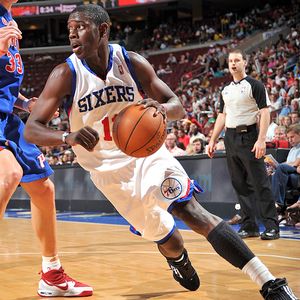 (Associated Press)
In the first 47 minutes, the Sixers had two free-throw attempts Friday night. In the last 60 seconds, they chucked up eight freebies.
The Sixers' 99-93 win over Utah was won from the floor, not the foul line. It was the fourth time this season that one of their opponents had as many or more free throws made as the Sixers had attemped.
A sign that the refs had swallowed the whistles? Or that the Sixers aren't getting to the rim nearly enough?
"Man, we're trying. We're trying," Sixers point guard Jrue Holiday said Saturday, following a brief practice at PCOM. "We're out there and I think we make contact. Last night, we did shoot the ball a lot more. We didn't really take it into the paint as much as we usually do. I really do think we try to get in there and try to get some calls."
Here's one for the road: The Sixers rank 21st in free-throws made (130) and 23rd in free-throws attempted (168). Judge for yourselves, folks.
Labels: Jrue Holiday, statistics breakdown