Sixers' Byron Mullens has mixed emotions about the idea of rebuilding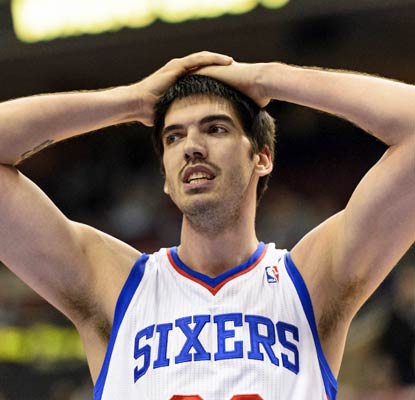 (AP)
Byron Mullens is, admittedly, a little salty about the term "rebuilding."
The fifth-year big man was around for two seasons of Charlotte's transformation: a 7-59 lockout-shortened campaign in 2011-12, and a 21-61 record in 2012-13. Then the Bobcats opted against picking up Mullens' option for this season. (He later signed with the Los Angeles Clippers, who traded him to the 76ers at the deadline.)
Now, as Mullens wrapped up a 19-win season with the Sixers, he was left to watch his former team in Charlotte qualify for the playoffs as the seventh seed in the Eastern Conference, with a 43-39 record. And Mullens said he'd prefer not to repeat history.
"It sucked to be in Charlotte. It sucked to be in a rebuilding process," Mullens said Thursday, when the Sixers conducted end-of-the-year exit interviews at their PCOM practice facility. "What sucked worse was to be in the rebuilding process and not be in the process now that they're in, in a playoff race and in the playoffs. I'd say, if I'm going to give it my all in the rebuilding process, I'd like to be in it all the way – even after the rebuilding process is over. We'll see what happens."
When asked whether he'd like to return for next season, Mullens would not say. He holds a $1.06 million player option, though he could opt out and test free agency.
"We definitely talked about it, and we talked about the options we have with how many draft picks we've got in the draft and all of that," Mullens said, of a discussion he had with Sixers general manager Sam Hinkie. "I'd just like to keep that between me and him, and see what happens. Obviously, everybody knows they have a lot of draft picks. It'll be interesting to see what happens.
"It's tough. Me and Sam talked about (rebuilding), as well. My two years in Charlotte, they had a pretty young team. Obviously it was a rebuilding kind of like we have here now. People just have to be patient. It doesn't happen overnight. It takes a while for young guys. You're looking at 19-year-old kids playing with grown men. It's tough. You have to respect it and be patient."
Two numbers that might work against Mullens moving forward: The Sixers went 0-18 in games in which he played, and 4-4 in games in which he did not appear.
Labels: Byron Mullens, Charlotte Bobcats, free agency, offseason, rebuild, Sam Hinkie