Sixers ready for Houston's James Harden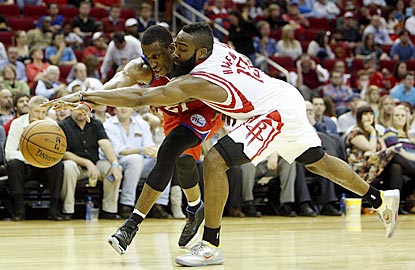 (AP)
The league's third-leading scorer will be at Wells Fargo Center Wednesday night, and the 76ers say they're ready for him.
Sixers coach
Brett Brown
said his team is aware of Houston's
James Harden
and what he does well.
Brown, a former assistant at San Antonio, said he first learned of Harden's abilities while the 6-5, 220-pound shooting guard was with Oklahoma City.
"I was always paying attention to Oklahoma City and James Harden coming off the bench," Brown said of Harden, the Thunder's sixth man from 2009-12. "You see the evolution of him being a starter, we've coached him in All-Star Games and you get to see him. You're always amazed with how big he is – physically and height-wise. He's such a force downhill. He gets to the rim and draws fouls like not many. He's always coming at you with the ability to rise up and hit a 3 or dip his head and reach out and bait fouls. He's a great guard and a great offensive player."
Brown's not embellishing, either: Harden, who averages 24.9 points, knows how to get to the line.
Only his former OKC teammate Kevin Durant has made more than his 59 free throws this season, and only Durant and Harden's Rockets teammate Dwight Howard have gotten to the line more than Harden's 70 attempts. Last season, Harden ranked first in free throws and second in free throw attempts (674-for-792). To put his 2012-13 numbers in perspective, the Sixers last season made 1,004 foul shots collectively.
Harden, who's nursing a bum foot, scored 26 points in 48 minutes of the Rockets' double-overtime win over Toronto Monday night. That's not enough for the Sixers to turn their focus to someone else, Michael Carter-Williams said.
"I think, clearly, we'll try to make him go right. He's great going left," the Sixers rookie said. "He's great using the Euro step and he's a great shooter. (I) just have to play him to the best of my ability."
INJURY REPORT: The Sixers rested Michael Carter-Williams, keeping the rookie point guard out of Tuesday's practice for precautionary reasons. Carter-Williams said he has a sore left foot after stepping on someone during the Sixers' loss to San Antonio Monday. Also, Arnett Moultrie was seen dribbling on the PCOM court after Monday's practice, a sign that the second-year forward might be closing in on a return. Moultrie, who had ankle surgery in late September, has said he thinks he can be a full-capacity member of practice by Thanksgiving.
Labels: Arnett Moultrie, Houston Rockets, injury report, James Harden, Michael Carter-Williams