Kwame Brown, on getting more playing time for Sixers: "I can't foresee the future. I'm not God"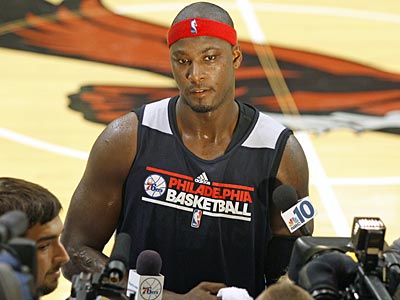 (Associated Press)
Looking pretty cozy at the end of the Sixers' bench most games,
Kwame Brown
was every bit uncomfortable when questions started getting lobbed in his direction in the locker room Saturday.
"You better not be talking to me. Talk to the guys who play," Brown said at his locker in pregame, before the Sixers hosted Charlotte.
Brown, the first overall pick in the 2001 draft, was acquired in July – a month before the Sixers traded for Bynum. For all intents and purposes, Brown was expected to be their starting center. What's transpired since? The journeyman hasn't played since Feb. 20, missing the next 20 games as a healthy scratch … and counting.
Does he expect to play again this season?: "I can't foresee the future. I'm not God."
Well, what about next season? Brown's got a player option (that he's bound to pick up) for $3 million: "I'll be a Philadelphia 76er next year."
Unless, of course, the Sixers opt to cut him and pay him in full, or buy out his contract and hope to negotiate him down from that hefty figure. Either way, it's not a favorable position for the Sixers.
Brown doesn't wonder if he'll get more time for the Sixers, though he'd like some.
"As a competitor, everybody knows that. You're asking me a dumb question," Brown said. "But when you ask me why I'm not playing, you have to ask Coach."
Labels: Kwame Brown