JASON RICHARDSON SEES POSITIVES IN SIXERS' MOSTLY-DOWN ROADTRIP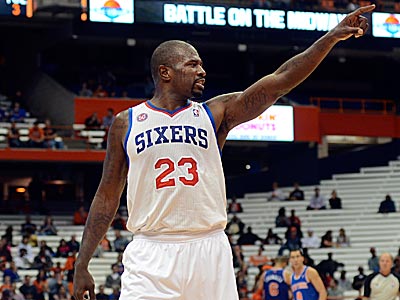 (Associated Press)
OKLAHOMA CITY
– A hotel flood aside, the Sixers spent the bulk of their Friday morning in good spirits.
They were laughing and joking their way through the final minutes of shootaround at Chesapeake Energy Arena, where they'll face the Thunder tonight. (In case you missed it – Seattle native
Spencer Hawes
, whose hometown Sonics were relocated to the Midwest, had
a pretty solid Tweet about the hotel experience
involving a pipe burst and an unexpected early wake-up call.)
Nonetheless, the Sixers seemed happy Friday – an emotion they haven't experienced too much of on this season-long, eight-game roadtrip, on which they've lost four of six thus far. Could they have walked out of Phoenix with a win? Sure. Same goes for a tight game in Portland.
It doesn't sound like
Jason Richardson
's all that worried about it, though.
"It's a learning experience, especially for a team as young as this," he said. "It's a decent trip so far, still have to two games left and that lets us know we can't take a play off and we have to have clock management. We have to do things right all the time. I think we grew from those games we were right there and could've won, and that's going to help us out in the long run."
Richardson said the time away from Philly has led to significant bonding time, like hotel-room hangouts, dinners among teammates, and a New Year's celebration in Los Angeles with the players' wives and girlfriends. So even if two more wins don't come of the roadtrip – and they might not, considering the Sixers face division-leading OKC and San Antonio – the team can bring camaraderie home with it.
"I think being on the road together, having an 'us against the world' thing," Richardson said. "Being in tough environments and finding ways to pull together – the outcome sometimes, we didn't win the game, but we were there at the end. That's helping us grow as a team."
Labels: Jason Richardson, Oklahoma City Thunder, Spencer Hawes, Twitter