EVAN TURNER, JRUE HOLIDAY WILL PLAY FRIDAY; SIXERS WILL PROVIDE UPDATE ON ANDREW BYNUM BEFORE GAME VS. HAWKS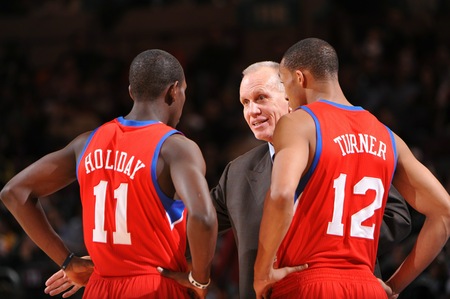 (Associated Press)
Evan Turner
and
Jrue Holiday
will play Friday night against Atlanta, and the Sixers are expected to provide an update regaring
Andrew Bynum
before the 7 p.m. game.
Sixers general manager
Tony DiLeo
will speak to reporters at 5:30 p.m. about Bynum, the injured center who visited his personal doctor,
David Altchek
, Thursday in New York. Bynum is expected to be available to talk about the doctor's visit, as well.
It's believed Bynum underwent MRIs on his bilateral knee bone bruises during his follow-up visit to Altchek. If the Sixers have good news, it might mean that Bynum could begin impact conditioning or basketball-related activities. He's been relegated to swimming and low-impact stuff for the time being.
Turner, who sustained a mild left ankle sprain Wednesday in Houston, is a go. Turner got treatment Thursday on the ankle and participated in Friday's shootaround.
"I'm going to come out and compete tonight," Turner said.
Turner added that he has no limitations "once I get moving."
"I ran today," he said. "I competed at a high-energy level, which I normally do. I'll be fine. I just shouldn't worry about it, you know?"
Holiday, who's missed the last four games with a left foot sprain, also declared himself eligible for a return. He said Sixers trainer
Kevin Johnson
has been taping Holiday's his foot differently the last few days and said it's working.
Holiday said he appreciated Sixers coach
Doug Collins
' intent to keep Holiday out until he was 100 percent.
"I feel like if I came back any earlier, I guess the result of what happened would've been the same," Holiday said. "I probably would have been out anyways because my foot was pretty bad. Again, the trainers took care of business and I'm good to go."
Labels: Andrew Bynum, Atlanta Hawks, David Altchek, Doug Collins, Evan Turner, injury report, Jrue Holiday, Kevin Johnson