SIXERS COACH DOUG COLLINS THINKS SPENCER HAWES THINKS TOO MUCH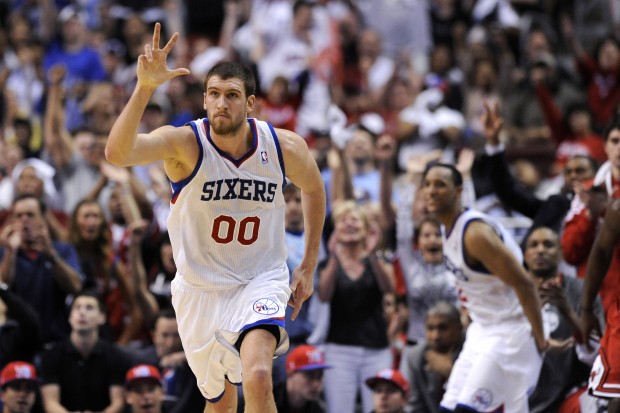 (Associated Press)
Doug Collins has a theory for Spencer Hawes' lack of production: The Sixers coach thinks Hawes, his top post option off the bench, is suffering from mental cramps.
Here's Collins' explanation:
"When Spencer slows down, or when he tries to get going too fast, that's when things don't work out for him," Collins said following Monday's practice. "He's so smart, it's like he has a pre-read. 'I'm going to catch it and drive,' and the guys back off of him. Or 'I'm going to shoot it,' and the guy is crowding him. Or 'I'm going to run a dribble hand-off and I'm going to look backdoor,' and the backdoor is not there. Spencer is incredibly smart and Spencer puts a lot of pressure on himself. … I need 24 to 25 consistent minutes from him off our bench. When you go to your bench, you know what you're getting."
And lately, Collins has gotten a grab bag from Hawes, the fifth-year big. Some games better than others. Largely, they've been a disappointment.
Hawes hasn't come close to matching his performance in the Oct. 31 opener, when he paired 16 points with 12 rebounds and enjoyed chants of 'M-V-P,' albeit playful ones, from the fans at Wells Fargo Center.
Even Collins' most basic expectations of Hawes haven't been met. A big should garner contact down low. Hawes hasn't, to the tune of five free-throw attempts in the last five games (entering Tuesday night against Minnesota) and none in the last three. A big should rebound. Hawes hasn't, collecting more than three rebounds in only one of the Sixers' last six games.
Hawes' season averages are among the worst in his career.
Labels: Doug Collins, Spencer Hawes