GM Sam Hinkie on practice facility plans: 'It's going to be important ... for culture'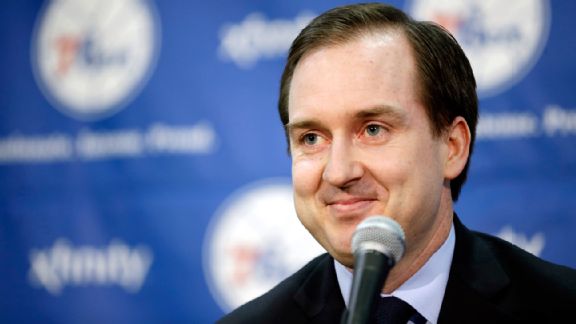 (AP)
Friday afternoon, Sam Hinkie spoke to reporters in a back room at PCOM, in front of a water-stained Sixers banner. Not the optimum conditions, for sure.
That being said, the 76ers' general manager offered a glimpse into what could be. He gave an update on the oft-discussed future practice facility for the Sixers, which is expected to be built on ground at the Philadelphia Navy Yard in South Philadelphia.
There's no timetable for its groundbreaking or its completion, Hinkie said, but work is being done behind the scenes.
"I've spent a lot of time – none in the last 10 days – but a lot of time in the last six months traveling around, visiting a lot of facilities, NBA facilities, college facilities and the like as we try to put our plans together," Hinkie said. "And (ours) is going to be big. I think it's important. I will say this. One of the things (why) it's going to be important is for culture.
"It's a place where our players feel welcomed and safe and they're getting the best instruction in the world and that they have a little extra incentive to get up some extra shots or a little extra incentive to – if he can do it, if Jason Richardson can do it on a Tuesday at 10 a.m. and I just came in from the D-League, maybe I can do it, too. If he's in there working in the weight room, maybe I should get in there, too. I think that's as important as using it as a recruiting tool, as an engine for how we live and how we work every day."
Labels: practice facility, Sam Hinkie